Careers
Welcome to Career Development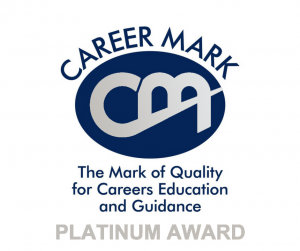 Leicester Grammar School has a clear commitment to providing Career Education Information Advice and Guidance (CEIAG) to all its students from Year 7 onwards. LGS holds the Platinum Career Mark Quality Award for its provision of CEIAG.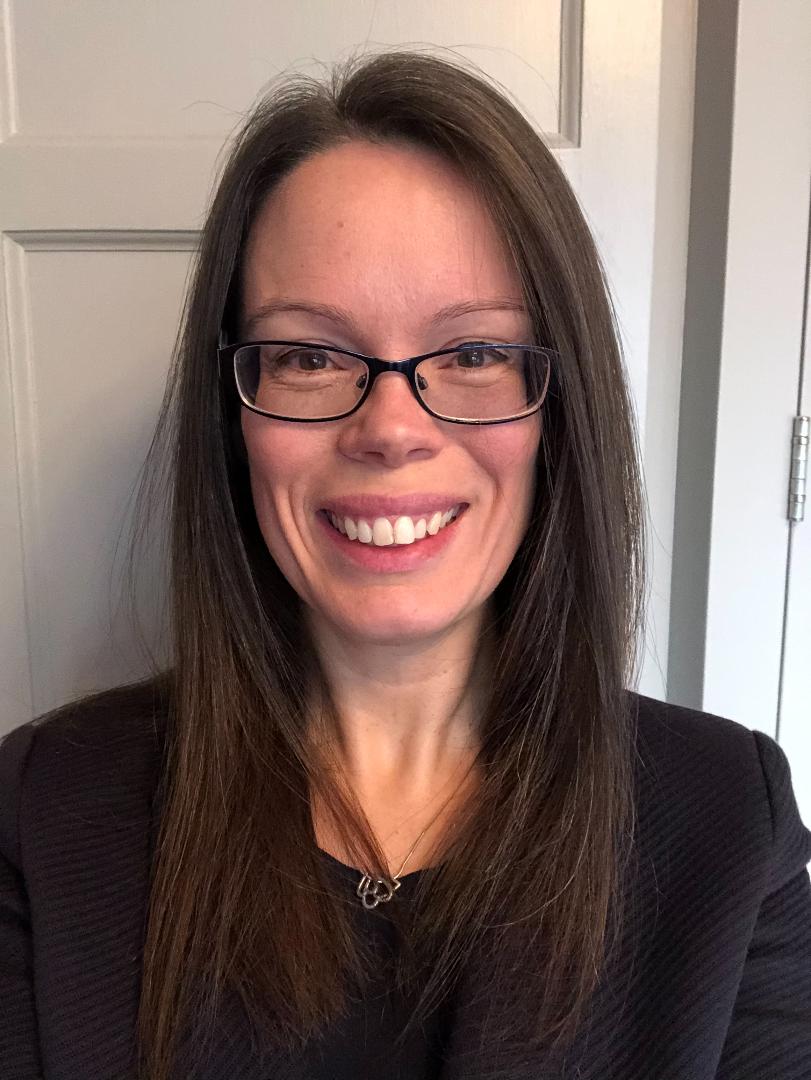 Mrs Clare Scott, Careers Leader
Employers/HE and other Providers
If you are an employer or HE/FE provider wanting to send us information regarding apprenticeship, job or course opportunities for us to share with our pupils, please feel welcome to contact Mrs Clare Scott, the Careers Leader, at careers@leicestergrammar.org.uk
Any hard copy information that you send can be held in the main Careers Library in the School
A bi-annual Careers Fair is held, as well as various careers related talks for pupils and parents during the year. If you'd like to support any of these events as a speaker, please contact us on the email address above; we would be very pleased to hear from you
---
LGS Careers Fair – Tuesday 27th September 2022

We are delighted to be able to announce that we will be able to host our Careers Fair again, after a long wait due to COVID! Our last Fair, held in 2019, seems a world away, but we intend to hold a successful event this year with a renewed sense of energy! We hope that you will be keen to be a part of this year's Fair.
Pupils from Year 10 to Year 13 will be invited to attend the Fair from across the LGS Trust and parents are also encouraged to attend. It provides a superb opportunity for local and national businesses and organisations to exhibit, providing you with the perfect opportunity to speak directly with interested families about the vast array of relevant apprenticeship, gap year, work experience, training or education opportunities.
Sign up here!
EXHIBITORS: To sign up please click the link above or email careers@leicestergrammar.org.uk for more information.
---
The information below is for Parents and Students:
Each student through their time at school has access to:
Independent and impartial guidance
Help centred around individual needs
Fully qualified Career Guidance Practitioners and advice from the School Pastoral Team. Booking guidance interviews can be done by emailing the Careers Leader at careers@leicestergrammar.org.uk
A structured, broad, balanced CEIAG programme in Years 7-13 that is integrated into the PSD/General Studies programme within the school. This includes work-related learning modules such as the Labour Market
Information to allow the student to make informed choices and decisions through the Cufflin Library and access to career information websites
Where do I find out what is on offer?
CEIAG is introduced through the PSD programme whereby students are made fully aware of what is offer
Careers events including those associated with applying to Higher Education are published in the student homework diaries
For further information, please contact our Careers Leader, Mrs Clare Scott at scottc@leicestergrammar.org.uk
The Career Development Institute breaks down career development learning into 6 key themes. These are as follows: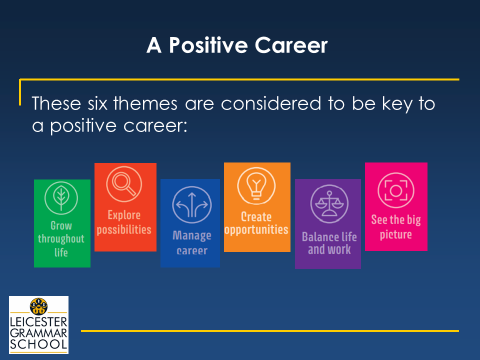 The careers lessons that pupils follow from Year 7 to Year 13, as well as other opportunities and interventions that are offered as part of the Career Development Programme at LGS, are based around these themes.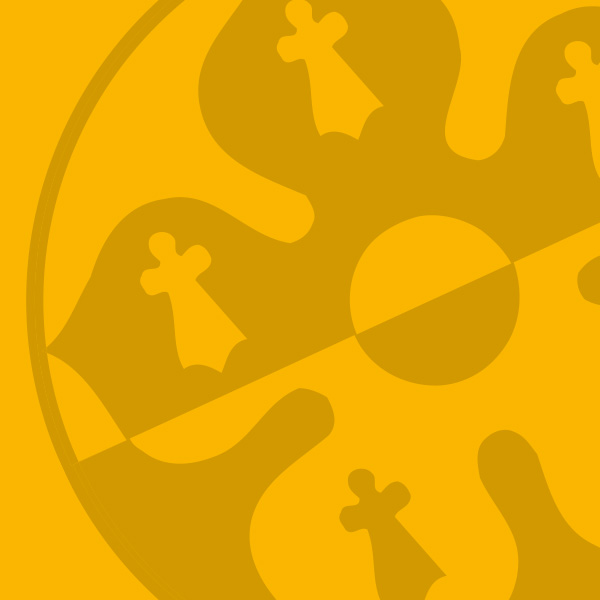 leavers' destinations
Double Click to Update
---
Careers Events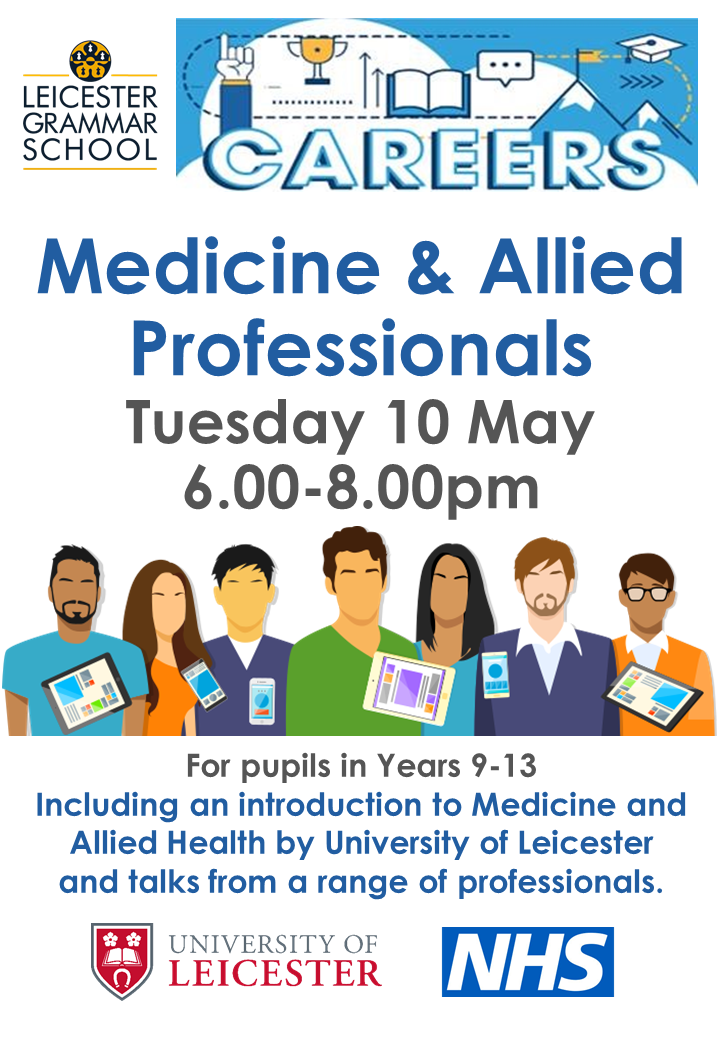 Year 10 Careers and Work-Related Learning: Two days in June covering Morrisby assessments, a Speed Networking Activity run by LEBC and a LOROS day themed around the charity, fundraising and pitching ideas to a judging panel.
Year 11 Career Assessments and Guidance Interviews: Based on the Morrisby Assessment Profiling (takes place end of Year 10 or start of Year 11) all pupils will be offered a careers meeting with a Morrisby-trained external guidance practitioner to discuss their assessment results.
Year 12 Careers/Higher Education learning: Two days in June – The UCAS Launch, with subject specialist support, talks from current undergraduate OLs and a Dragons Den style activity with local employers, run by LEBC.
Accessing the Careers Service:
Year 12 and 13:
Half-hour 1-1 guidance meetings are available on Tuesdays/Wednesdays with the Careers Leader, Mrs Clare Scott. You should book a meeting to take place during one of your study periods. These will be held in the Careers Office, off the Library.
Please email careers@leicestergrammar.org.uk to arrange.
Years 7 – 11:
Pupils have access to careers support with Mrs Clare Scott, Careers Leader, Monday - Thursday at the following times:
11.25-11.45am - Breaktime Clinic for quickfire questions (just turn up!)
12.55-1.55pm - Lunchtime Clinic for quickfire questions (just turn up!) OR students can book a 1-1 half-hour guidance meeting
All Careers Clinics will be based in the Careers section of the Library.
1-1 half-hour guidance meetings will be held in the Careers Office - please email me at careers@leicestergrammar.org.uk to book.
Please note:
If you wish a parent to be involved in your careers meeting, this can be arranged virtually, via Teams
If you are having to study from home for any reason, please let me know, as again virtual Teams meetings are possible
Year 12 Career Development Sessions (Trinity Term - Friday Periods 5 & 6)

29th April – De Montfort University - Options Post-18 including Higher/Degree Apprenticeships
27th May – Warwick University – Student Finance/Budgeting
17th June - - Ambassadors from Nottingham - Life at university
24th June Nottingham Uni – Choices / Why go to uni
27th June – UCAS Launch - Personal Statements
28th June – LEBC Dragons Den event
Year 13 Careers Learning:

All students offered a chance of a Mock Interview with an employer in November

For University Mock Interviews, students can speak to Mrs Scott to arrange with a subject specialist
For MMIs, please contact Dr Fulton. This event runs in November

Degree/Higher/Advanced Apprenticeship/Employment Preparation: An introductory session delivered by LEBC in the Lent Term 2022 with further Apprenticeship/CV/Cover Letter writing workshop to be delivered as required

Please contact Mrs Clare Scott for further details regarding any of the above

The Careers Fair is a bi-annual event. Details of the 2022 Fair will follow.
2019 Careers Convention Exhibitors
Information for LGS Trust Staff:
Please contact Mrs Clare Scott for details of CPD opportunities in the Careers area of work