Business & Economics
Commitment to excellence
To stimulate and maintain student curiosity, interest and enjoyment in Business or Economics
To enable students to be familiar with economic and industrial knowledge, principles, skills and vocabulary, enabling students to make critical and judgmental business or micro and macroeconomic decisions
To provide students with a learning framework which will raise their expectations and maximise their individual potential
To enable students to understand and use investigative methods
To enable students to work both independently and as part of a team, taking responsibility for their own learning
To employ teaching methods and resources that allow students to have learning opportunities in Business or Economics, experiencing success and enjoyment in their work
To enable students to apply business or micro and macroeconomic skills in the context of a wider learning environment
To develop an awareness in students of the implications of the economy for the individual, businesses, the community, society and the environment
Mr Peer Moore-Friis
B.A. (De Montfort) PGDIP (Oxford), CIM DIP
Head of Business & Economics, Young Enterprise Co-ordinator
A Level
Summary of Unit Specification Structure (A-level Edexcel Business 9BS0):
The A-Level is structured into four coherent themes to support teaching and learning:
Theme 1 introduces students to marketing and people; Students will develop an understanding of:
meeting customer needs: the market, market research, market positioning.
the market: demand, supply, markets, price elasticity of demand, income elasticity of demand)
marketing mix and strategy: product/service design, branding and promotion, pricing strategies, distribution, marketing strategy.
managing people: approaches to staffing, recruitment, selection and training, organisational design, motivation theory in practice, leadership.
entrepreneurs and leaders: role of an entrepreneur, entrepreneurial motives and characteristics,business objectives, forms of business, business choices, moving from entrepreneur to leader.
---
Theme 2 introduces students to managing business activities; Students will develop an understanding of:
raising finance: internal finance, external finance, liability, planning.
financial planning: sales forecasting, sales revenue and costs, break-even, budgets.
managing finance: profit, liquidity, business failure.
resource management: production, productivity, and efficiency, capacity utilisation, stock control, quality management.
external influences: economic influences, legislation, the competitive environment)
---
Theme 3 explores business decisions and strategy; Students will develop an understanding of:
business objectives and strategy: corporate objectives, theories of corporate strategies, SWOT analysis, impact of external influences.
business growth: growth, mergers and takeovers, organic growth, reasons for staying small)
decision-making techniques: quantitative sales forecasting, investment appraisal, decision trees, critical path analysis.
influences on business decisions: corporate influences, corporate culture, shareholders vv. Stakeholders, business ethics.
assessing competitiveness: interpretation of financial statements, ratio statements, human resource.
managing change: causes and effects of change, key factors in change, scenario planning).
---
Theme 4 considers a global business; Students will develop an understanding of:
globalisation: growing economies, international trade and business growth, factors contributing to increased globalisation, protectionism, trading blocs.
global markets and business expansion: conditions that prompt trade, assessment of a country as a market, assessment of a country as a production location, reasons for global mergers or joint ventures, global competitiveness.
global marketing: marketing, niche markets, cultural/social factors.
global industries and companies: multinational corporations) (the impact of MNCs, ethics, controlling MNCs.
---
There are three externally assessed papers. Each paper comprises 100 marks and is two hours in duration. Questions range from short answer (including multiple choice), data response and extended open response.
Students must complete all assessment in May/June in any single year.
---
Summary of Unit Specification Structure (A-level Edexcel Economics A 9EC0):
From 2015/16, the A level is structured into four coherent themes to support teaching and learning:
Theme 1 introduces students to markets and market failure
Theme 2 introduces students to the UK economy, focusing on performance and policies
Theme 3 explores business behaviour and the labour market
Theme 4 considers a global perspective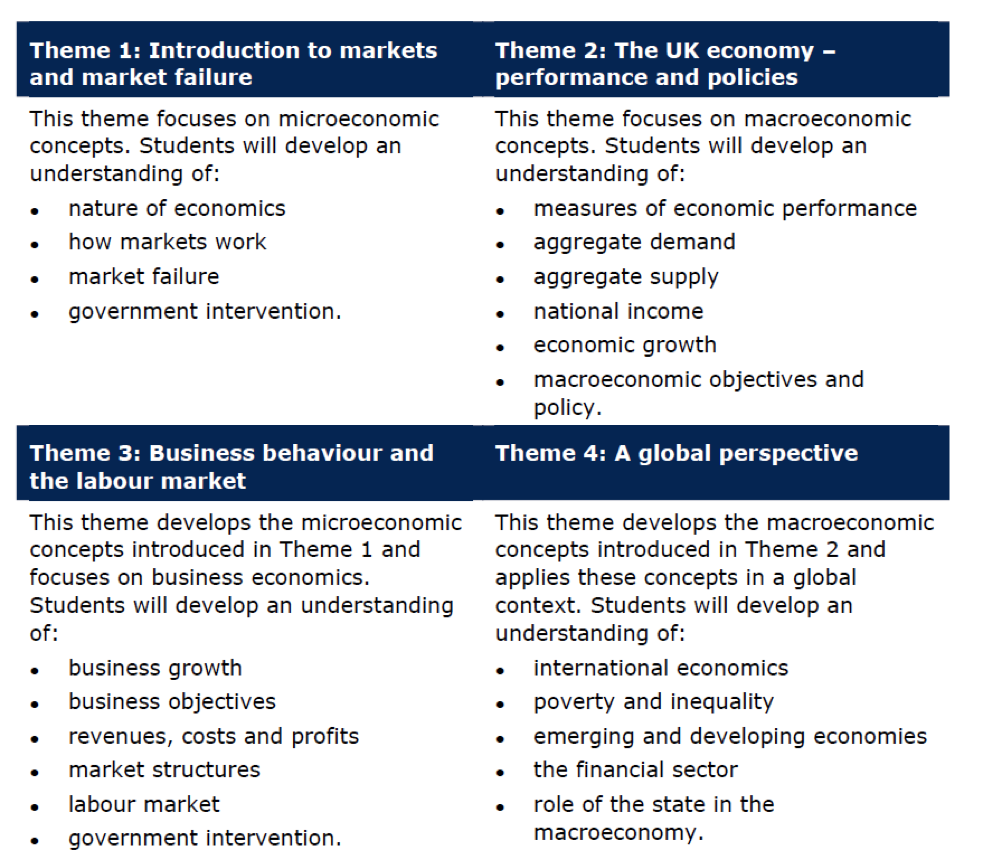 Co-Curricular
The department runs a Business and Economics Society. Student apply to do various roles and are involved in organising talks, helping younger students and taking part in the Budget Challenge, organised by the Institute of Economic Affairs. Students analyse the macroeconomic conditions and the likely outlook for the UK economy for the next two years, they produce the main economic goals and broad strategy to achieve them, and recommend a budget, setting out taxes and other sources of revenue, and expected spending by department, and details of any expected borrowing.
Further activities include the IFS Student Investor Challenge. Students are given a fictitious £100,000 to invest in a share portfolio over 3 months. Teams from the school have regularly gone on to the regional final. This competition is open to all students from Year 10 and upwards.
Students also have the opportunity to take part in essay writing competitions. The most popularly subscribed competition has been the Royal Economic Society Essay Competition In the past one student made it to the list of highly commended essays in the country. The RES Essay competition is an excellent preparation for students wishing to study Economics at top universities.
Students interested in working in finance, accounting, business and/or banking are encouraged to take part in the Institute of Chartered Accountants in England and Wales BASE Finance Competition. They are given a case study and will have to review and implements new strategies for a firm, competing against teams from other schools.
Trips
Lower Sixth students go to London where they visit the Bank of England and two think tanks: The Adam Smith Institute and the Tax Payers' Alliance. These visits not also give students a practical appreciation of monetary and fiscal policy formulation, implementation and review, it also provides them with insights into the complexities of theories studied in class.
Upper Sixth students visit the Jaguar factory in Birmingham. Here they have the opportunity to learn about the marketing and production strategies used by a globally competitive premium market segment automotive manufacturer, appreciating how these relate to cost and revenue diagram changes and other advanced microeconomic theories and concepts.
Other
Young Enterprise is coordinated by the department. Students set up their own business and compete against other teams locally, regionally and nationally. They learn about all the functions of a business, and formulate, implement and review their business strategies. At the end of the year they produce a report and presentation to judges from Young Enterprise. The school has won a range from prizes in the past based on our entrepreneurial flair and ability to make a lot of money. Young Enterprise is open to all students in Year 12, not just those who do Economics.